And There Are No Diamonds In The Mine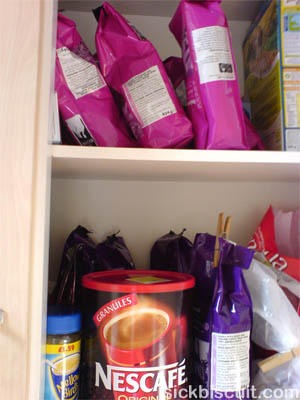 Oh the joy! The office has gotten in the coffee supplies again. Imagine my surprise when I opened the cupboard to discover row upon row of bags of the stuff.
I've been reading through the archives of a blog I stumbled upon a while back and came across an entry about coffee which mentioned it's procurement via the internet. I love my coffee and have been a heavy consumer of it for many years (especially since I got into recovery) and when choosing a bean I always go for the strongest available, avoiding the different "blends" or "styles" that most supermarkets offer.
I love that different coffees come from different parts of the world and have sampled the produce of a great many countries, but I've never gotten into the wide range of specialist beans available as most supermarkets just don't stock them. A bit of searching returned a few sites that look promising. Old Brown Java, Hawaii Kona, Jamaican Blue Mountain (£35.99 per 500g!) the names alone make my mouth water (but the prices make my wallet tremble.)
Maybe someday when I'm feeling rich, with a debit card in my hand and the need for more I'll put an order in.
I think I'm due another mug of joe…