Barely Legal
Richard just drew my attention to this news item describing Banksy's latest escapade, an exhibition which includes a "37-year old Indian elephant […] painted, from head to tail, in a floral pattern reminiscent of an old fashioned living room or a British pub," genius!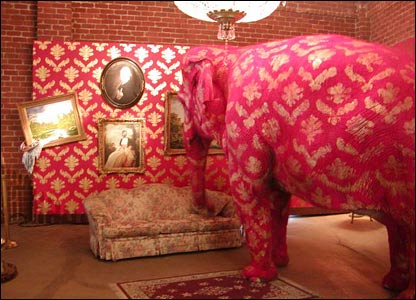 I hadn't heard of Banksy before until I read about him replacing 500 copies of Paris Hilton's album in record shops with CDs containing music by Danger Mouse and featuring doctored artwork. I immediately thought "I like the way this guy thinks!"
Looks like I've just got myself a new IM avatar!