Nerves of chocolate
My brother got married at the weekend and as part of the preparations we had to transport the wedding cake from my uncle's bakery to Lusty Beg island, where the reception was held: a distance of 10.6 miles, according to Google.
Due to the size and weight of the cake it was decided that I would hold it on my lap while my brother drove, here's an action shot: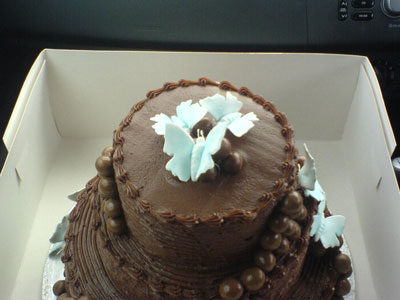 At every twist and turn in the road my nerves were jangled and by the end of the journey Tim had sweat stains under his arms. The aroma coming from the cake had my taste buds watering in anticipation.
Forget crisps, sweets, pizza and all other junk foods: chocolate is the one thing that I feel is worth abandoning a strict, clean diet for ;) My brother Tim is also a huge chocolate fan and hence decided against a traditional fruit cake.
It tasted as good as it looks, compliments go out to my uncle Leslie!