2009 Irish Blog Awards Nominations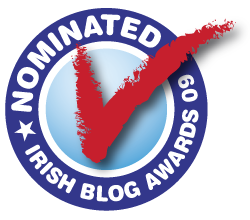 I've been quiet lax on the blog front for a while now, both in terms of producing and consuming blog content. Curse you Twitter!
So it came as quiet a surprise while reading one of Matt's blog posts to discover my humble blog had been nominated in the Best Personal Blog category of the 2009 Irish Blog Awards.
Must. Blog. More.
Update: Thanks to DavyMac for the great logo!